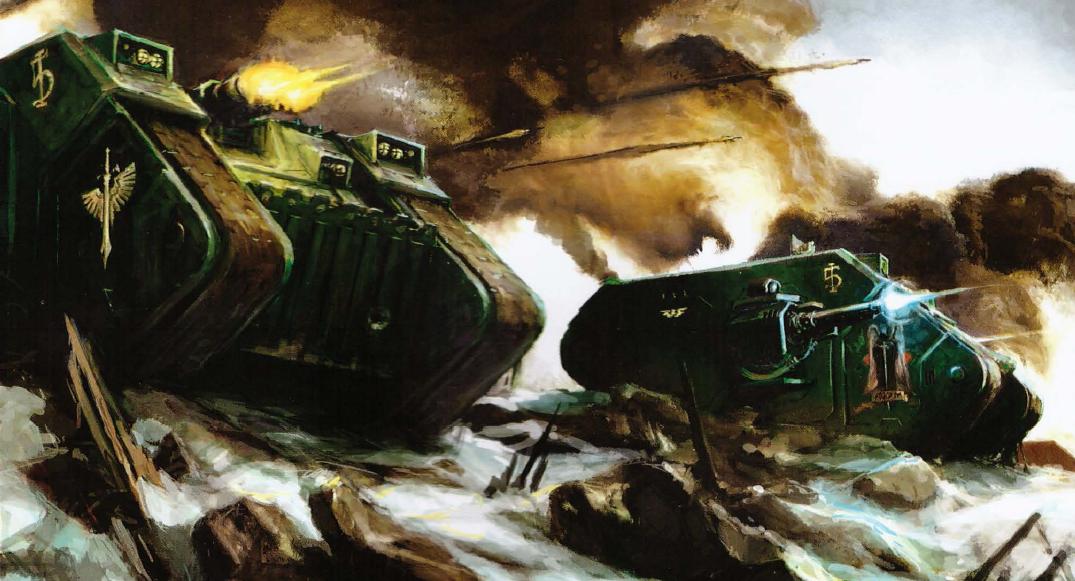 I've always liked Land Raiders since getting into 40k, I guess it's that WWI look they have going for them and of course who doesn't like a big fuck off tank :).
In 5th ed the Land Raider was king for a short amount of time; 5th ed brought better vehicle rules, which meant vehicles were extremely tough. Add that the current Space Marine codex introduced two new Land Raider variants; Crusader and Redeemer. To add extra goodness the Space Marine also had very cheap Hammernator units; man could these guys pack a punch.
Unfortunately the above didn't last long as players began to adapt to 5th ed and brought more tanks which introduced more melta and even av14 doesn't like melta, but that's the way the cookie crumbles.
In 6th ed things have changed - vehicle rules have changed and are more balanced and the Land Raider is one of the toughest vehicles out there.
The meta for 6th so to speak has changed too, more infantry units are appearing and even hybrid armies. Because of the new style of armies and also hull points in vehicles, guns with high rate of fire have appeared because of the ability to knock off hull points from a vehicle fairly easy. The plasma gun and autocannon have become more popular and the once king of anti mech, the meltagun, has now taken a back seat. Plasma especially is more interesting as AP2 gives +1 on the damage chart, however that's a whole other discussion:
vehicles in 6th - better or worse
So while meltas aren't so dominant any more, the Land Raider can have it's time again, though I suspect full circle will come around and meltas may raise and reclaim the throne.
On to the list then. The theme of this list will be triple Land Raider Crusaders, which all pivot around the standard of devastation. What this standard does is allow all D.A units with 12" to re-roll failed morale and pinning checks but more interestingly all units within 6" treat their boltguns as salvo 2/4 weapons. This means a Land Raider Crusader can knock out 24 S4 shots - that's a lot of shots. So to start off with I'll take three Land Raider Crusaders with multi meltas.
Another important part of the list is the power field generator; this gives all units within 3" a 4+ inv, but it also includes enemy units too! But where else can you get a 4+ inv save from? I'll take two Librarians and a Techmarine and each has a power field generator.
Next going to need some troops and some bodies to throw into those Land Raiders. Of course the Command Squad will tag in with a Librarian into one Land Raider. I'll take three five man Tactical Squads and give them each a meltagun and combi melta so can deal with the tough stuff. Now I am not keen on the low troop numbers, but will come back to these later.
To increase the tank destruction I'll add two Ravenwing units plus it's rude not to include them, those D.V models are so pretty! :). At the moment I'll take the min size units and throw on dual meltaguns, may drop the meltaguns and depending on points may expand the units size.
Lastly need some anti air, which as codex standard Dark Angels lack in the flyer department. Plus the Dark Angel flyers are stupid cost. However Dark Angels to have access to the Mortis Pattern Dreadnought which has options for skyfire etc. Two of these will do nicely.
Dark Angels 'Land Raider Devastation' - 2,000 points
HQ
Librarian - power field generator
Librarian - power field generator
Techmarine - power field generator
Command Squad - standard of devastation & 5 x combi meltas
Elite
Mortis Pattern Dreadnought - 2 x twin-linked autocannons
Mortis Pattern Dreadnought - 2 x twin-linked autocannons
Troops
10 x Tactical Marines - missile launcher
5 x Tactical Marines - meltagun - Sgt w/ combi melta
5 x Tactical Marines - meltagun - Sgt w/ combi melta
5 x Tactical Marines - meltagun - Sgt w/ combi melta
Fast Attack
Ravenwing Squadron - 2 x meltaguns
Ravenwing Squadron - 2 x meltaguns
Heavy Support
Land Raider Crusader - multi melta
Land Raider Crusader - multi melta
Land Raider Crusader - multi melta
Total:
2,025
Firstly, the list is 25 points over. There are several ways to reduce this; ditch the combi meltas from the Sgts and you're under, after all only a single shot. Same could be said about the Command Squad's combi weapons, after all 25 points for 5 single melta shots are a lot. Could also maybe ditch the Techmarine, after all the Land Raider with the standard in is probably going to get focused on most and all Land Raiders will be close together anyway to make the use out of the banner. Or save that little bit more and ditch one of the Librarians, either way you're gaining back not far from 100 points. With these spare points the Ravenwing numbers could be boosted up or you could throw more troop numbers in and then still have some spare points left. All interesting thoughts.
Ok, so the list only has five vehicles and two of them are av12 while the other three are av14. I guess you could move up the Dreadnoughts and benefit from the 4+ invulnerable and then remain static mid field and gain the skyfire rule etc.
Basically the Crusaders plough forward and blast away anything with 72 S4 shots, oh yeah they are twin-linked - that means something will be going down. For your information a single Crusader would do this against a unit of 5 Terminators: 24 shots - 21 hit (after twin-linked) - 11 wound - 2 dead Terminators. That's not including the assault cannons which no doubt would be firing at the same targets.
While Crusaders are moving up the Ravenwing could scout into position to get some early melta slagging on the go or stealth up the board instead.
Once close, Tacticals will disengorge and unleash melta pain. The larger Tactical Squad can combat squad and claim objectives.
Mortis' go for flyers or dakka transport vehicles etc.
Going with Allies
When building lists I like to go pure codex. I haven't got a valid reason for this other than I like to, so neh. I understand and appreciate allies, though if I wanted to play another codex I'd just buy the army and be done with it. But it's foolish to bury my head in the sand and ignore allies and I turn to Imperial Guard.
With allies you always want them to plug gaps in your army or bring something you haven't got. In Guards case they can bring the awesomely under costed Vendetta and of course loads of bodies for troop purposes.
If Guard allies were a route to go I would ditch a Librarian; combi meltas on Command Squad and Tacticals and also drop the ten man Tactical Squad. This would reduce the list down to 1,730 points. Add the following:
HQ
Company Command Squad - autocannon
Troops
Platoon Command Squad - autocannon
Infantry Platoon - autocannon
Infantry Platoon - autocannon
Fast Attack
Vendetta
This will bring the list to a total of 2,080. As mentioned earlier the Land Raider with the banner inside would be victim to target priority and all Land Raiders would need to be within 3" of the banner to make use out of it, which is the same bubble as the force field. So ditch the Techmarine and you're down to 2,000 points on the nail and now got a dedicated anti flyer flyer and also plenty more bodies to make up troops numbers who can also put out some reasonable fire power instead of doing relatively bugger all.
Thoughts? Improvements? Hate or rate, then let me know in the comment box.