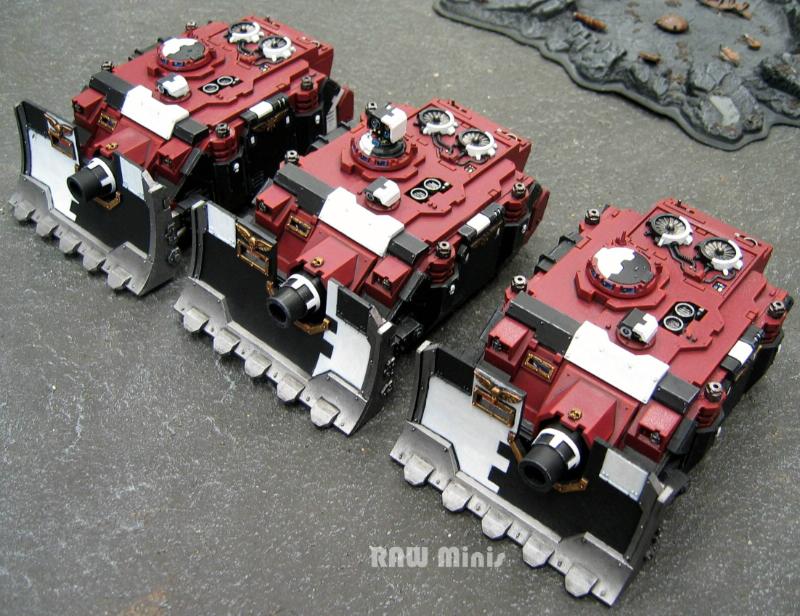 The Vindicator is my favourite heavy support choice in the variety of Space Marine codices. Nothing screams big scary tank like a big scary tank with a big cannon and dozer blade on the front.
Big Hitter
The Vindicator is based on a Rhino chassis and is av13-11-10. It costs about 115 points though this depends on which codex you use the Vindicator from. It comes with smoke launchers and search light as standard and in some books it comes with a storm bolter too - handy for those weapon destroyed results.
The big factor about the Vindicator is the demolisher cannon; 24" S10 AP2 large blast ordnance. With something that powerful the Vindicator can fill a variety of roles; anti horde, anti elite infantry i.e Terminators, anti armour and is useful for gibbing multi wound models i.e Broadsides, Paladins, Thunderwolves etc. The area it falls down in is it cannot deal with monstrous creatures effectively, but hey ho it cannot do it all.
Usual upgrades are a dozer blade, additional small arm i.e storm bolter or twin-linked bolter, extra armour and unique upgrades for Chaos Space Marines such as daemonic possession (ignores crew shaken and stunned on a 2+), dirge caster etc. All Vindicators get the option for the siege shield (the big ass shield) which auto passes terrain tests. Personally I have never bothered paying the points for the big shield.
Extra armour is mostly pointless as a Vindicator not shooting is taking the pressure off your opponent. Only benefit is you can still move, but either way the opponent gets some breathing room.
Adding additional weapons onto the Vindicator is worth it if you have points spare. With the right rolls the demolisher can keep ticking against those weapon destroyed results.
* Note the Blood Angels Vindicator costs roughly 20 points more than a usual Vindicator, this is because all B.A vehicles are fast. So it is true, red ones do go fasta ;)
Aggressive Destruction
Firstly, like any tank you should take them in pairs. Vindicators are great bullet magnets and a single one on its own won't last long. Having at least two means the rest of your army will take very little return fire power as the opponent is anxious to destroy these destructive units.
I often see Vindicators put into static gun lines, this isn't the best idea as the Vindicator only has a 24" range. If you deploy 6" from your table edge then the Vindicator will have a total threat range of 36". If you're playing a gunline then the opponent will have to move towards you, the closer the opponent gets the less effective the Vindicators will be due to possible scatters into your own lines. If you want a gunline then you want Predators, which can reach out and touch enemy units and keep the pressure on from the start of the game.
Instead Vindicators should be used as aggressive destruction units. The Vindicators should be moving up the front of the army forming a solid wall which the rest of your army can move behind - this forces the opponent to shoot at the bullet magnet Vindicators, keeps your units safe and also keeps the Vindicators in range.
There's two issues with the above though:
1. If a Vindicator gets immobilised then your army is stuck behind it. If it is wrecked/destroyed then that's terrain tests for your units behind.
2. Vindicators defence is the av13 on the front, it's weakness is the side and rear armour. Fast units or savvy opponents will flank the side armour and take it out.
There's not a lot you can do about the first one, you'll have to suck it up. Ok you could move your force in front of the Vindie, however this is a risk as the large blast could scatter back and mush your own troops! Not cool!
The second issue you can defend against though. Put units on the side of the Vindicator which can block LOS i.e Rhino or at least give some kind of cover i.e your infantry. Both of your units double up as blocking any potential side assaults, though this doesn't matter too much as vehicles are hit on the rear armour and the Vindicator can be assaulted from the front.
Another way to get around the weak side armour is to use terrain to your advantage. Move up between ruins etc using terrain to give your side armour cover or even block LOS.
Oh, suits you, Sir
Just because a Vindicator is cool it doesn't mean it is always right for your army. Due to a Vindicators short range they should be parking mid field and dropping down big blasts. A Vindicator has no reason to advance any further past mid field unless going for an objective (Big Guns). Due to this reason is why a Vindicator isn't suited for every list. As mentioned above, the short ranged doesn't suit static gunlines and when you're dropping shells at the enemy Vindicators do not suit assault armies - you do not want to be dropping shells on your own dudes!
Instead a Vindicator supports a mech army or shooting armies; mech armies provide additional armoured threats and can be used to block that weak side armour and shooting armies which have no or little reason to advance forward e.g Razorback army, though these do not have to be static though.
Wise at blasting
Just because the Vindicator can destroy practically anything doesn't mean you point it at the nearest thing and start blowing it up. Vindicators have limited life span because they are a high priroity threat. So you need to make sure your get your target priority spot on with Vindicators and hit hard and first with them before they go poof! Make sure what you fire at is something the Vindicator likes to blow up, so dropping a shell on a Land Raider carrying Assault Terminators is fine, but dropping a shell on a full wounds Tervigon isn't a good idea.
I hope this Vindicator tactica helps getting more out your tank, happy blowing up!